Grilled avocado with Jumbo Prawns by Chef Faz – ABC7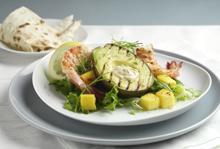 Grilled Avocado with Jumbo Prawns
By Chef Faz Poursohi
Serves 4 people
Chipotle Aioli
Filling for center of grilled avocado half
Note: Blend in small blender or hand held emulsion blender
Makes 4 servings
2 cups Mayo
1 small green onion diced fine
8 sprigs cilantro – leaves only – chopped
2 tbs. or ¾ oz chipotle pepper juice or pepper
¼ cups Lemon Juice
1 small clove garlic
Touch of S & P
Chili Lime Vinaigrette
Dressing for baby greens
1 cup orange juice
½ cup Raspberry Vinegar
2 limes, juice of
1 tbs sugar or more depending on tartness
1 cup corn oil
Pinch of crushed dry chilies
Pinch of S & P
Grilled Avocado
2 ripe avocados skin on cut in half
S & P
Oil fruit side
Grill over hot coals or on grill pan, fruit side down, until nice grill marks appear. Turn over and grill skin side.
Baby Greens and Mango
Toss 4 cups of baby greens with chili lime vinaigrette. Divide onto 4 plates
Dice 1 ripe mango, cut into 1/2 –inch.
Jumbo Prawns (butterflied)
Oil prawns slightly and grill over hot coals or use grill pan. Sprinkle with S & P.
Place grilled avocado half on tossed dressed salad greens, sprinkle with diced mango and place 2 grilled prawns opposite avocado. Fill center of avocado half with 1 Tablespoon of chipotle aioli. Garnish with wedge of lime.